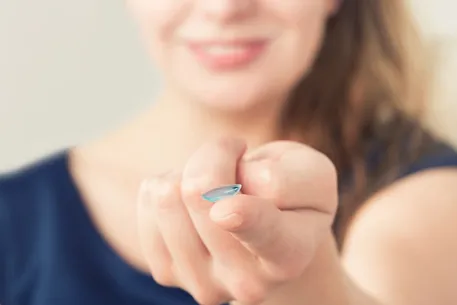 Certain eye conditions make it impossible to wear conventional soft lenses. Astigmatism is one such condition. Fortunately, the professionals at Vision Source Fredericksburg Road can help and can fit you with a pair of lenses to help you see clearly.
What Is Astigmatism?
A healthy cornea is smooth and curves equally in all directions, allowing the light to focus on the retina at the back of your eye, allowing you to see clearly. Astigmatism occurs when your cornea isn't evenly curved, and the light won't refract correctly, causing blurry vision.
Many people have some degree of astigmatism, and it may not affect your vision. In addition, many people are born with some degree of astigmatism. Significant astigmatism needs to be corrected and may complicate your prescription.
How Is Astigmatism Corrected?
If you prefer contacts over glasses, our eye doctor can fit you with contacts designed to treat astigmatism. You may find that contacts provide clearer vision than glasses because your vision won't be obstructed with an eyeglass frame and dirty lenses.
Toric lenses are the most popular choice for correcting astigmatism because they are specially addressed to treat this refractive error. Toric lenses have a special shape to create different focusing powers to help you see clearly. In addition, these lenses have a thicker zone than soft lenses, which keeps them from rotating when you move your eyes.
If our optometrist fits you with toric lenses, they need to be inserted in a specific way, and an exact fit is essential. Toric lenses have a middle axis to keep your line of vision clear. If the contacts don't fit correctly, they won't improve your vision.
Our eye doctor can also prescribe gas-permeable lenses if you have mild astigmatism. These lenses maintain their regular shape and can make up the irregular shape of your cornea, providing clearer, sharper vision. Unlike toric lenses that are replaced every 30 days, gas permeable lenses are replaced once a year and need more care to ensure they last.
Schedule an Appointment with Our Eye Doctor for Astigmatism Contact Lenses in San Antonio
If you have been diagnosed with astigmatism and want to wear contacts, the optometry professionals at Vision Source Fredericksburg Road are ready to assist you. Our eye doctor of optometry will fit you with the best pair of astigmatism contact lenses based on the severity of your condition. We can also teach you to insert, remove and care for your new contact lenses. Call us today at (210) 735-5440 for more information or to schedule an appointment with our eye doctor.